See below for information on our current research studies.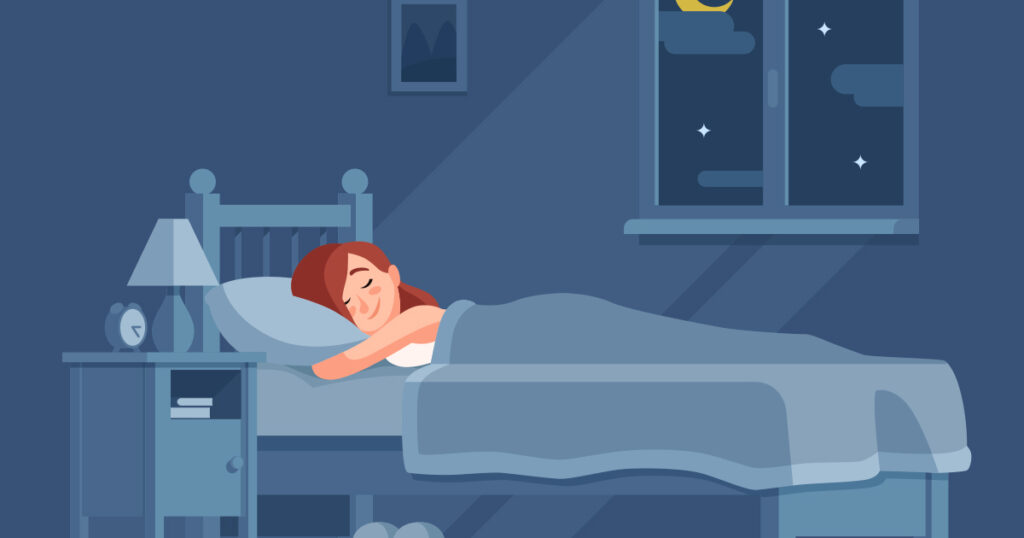 People with late-life depression often have alterations to their sleep. As well as this, depression changes the way that people remember emotional information. The purpose of this study is to examine brain waves during sleep and wake to examine how poor sleep may affect emotional memory.
What's involved
To ensure your eligibility you will undergo a short online questionnaire. You will then be sent a portable device to wear for 3 nights that attaches to your finger while you sleep and measures blood oxygen to confirm any sleep apnea.
Following this, a short daytime screening session will take place, either online or in-person, where you will do a few memory and thinking tasks with a researcher (~45 minutes).
On the afternoon of your sleep study  you will be invited in to the Woolcock where trial the high-density EEG cap to see if you will be comfortable wearing it overnight (~ 30 minutes). You will then complete an image-based task and a word-based task before and after sleep to test your memory for emotional information (~1.5 hours). You will be set up and sleep overnight with a high-density EEG sensor cap on which uses 256 sensors to measure brain activity.
Eligibility Requirements
Adults aged 50-90 years
Fluent in English
No diagnosis of Alzheimer's Disease, mild cognitive impairment or a neurological disorder
No current or previously diagnosed serious mental health disorder, other than depression or anxiety
No history of head trauma with a loss of consciousness > 30 mins
No history of stroke or mini stroke (TIA)
Are not a current shift worker
Are not regularly taking sleep-affecting medication
No history of alcohol or drug abuse
No other serious medical conditions
No diagnosed narcolepsy, REM behaviour sleep disorder, restless legs syndrome, severe OSA or severe insomnia
Register your interest via:
https://sleepandemotionalmemorystudy.wappsystem.com.au/?/home
Find out more
Contact name: Ms Andrea Ricciardiello
Call: 9114 0478 (from 9am – 5pm)
Email: andrea.ricciardiello@sydney.edu.au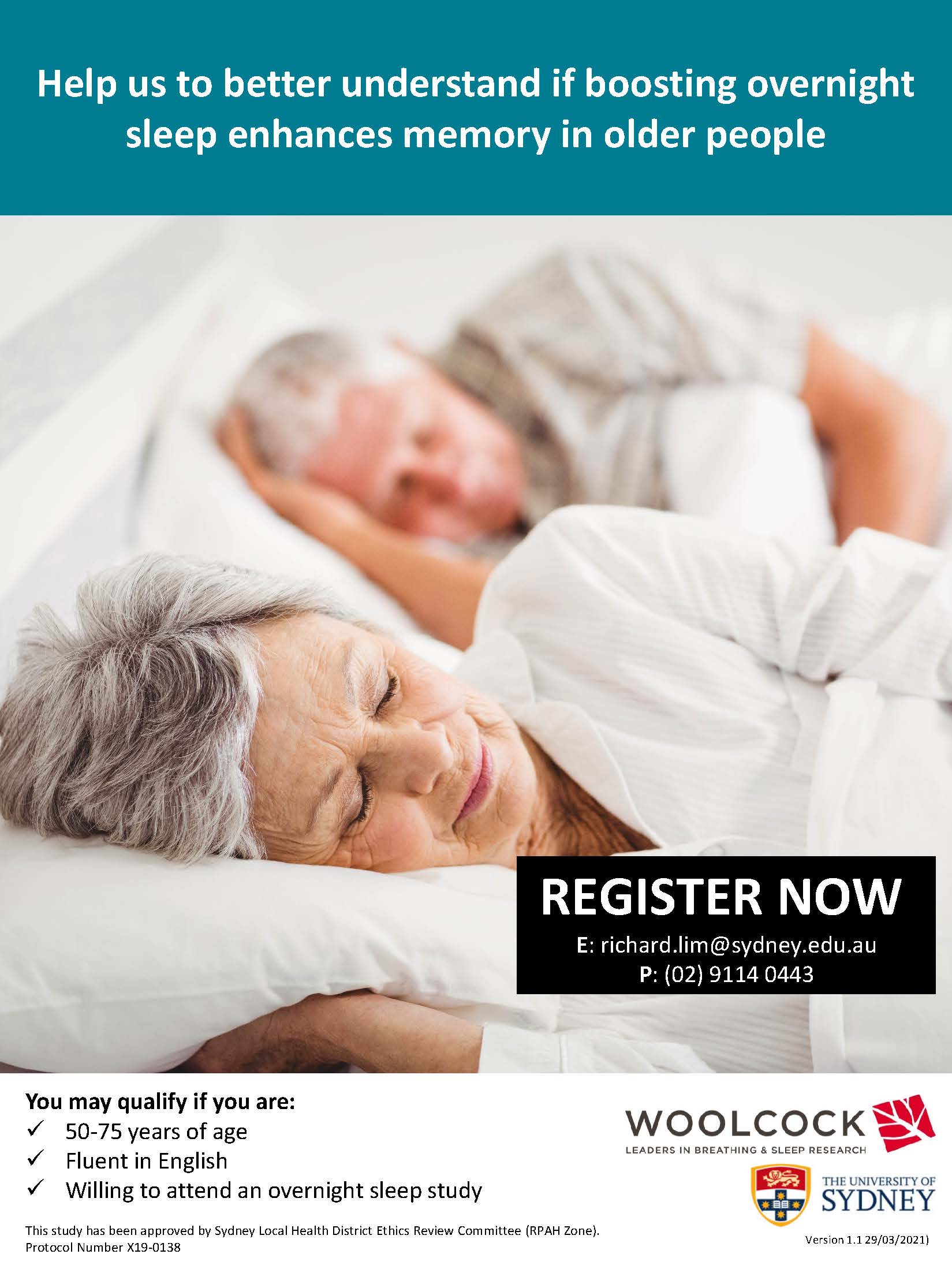 About the study
Sleep plays an important role in human physiology and memory consolidation. By targeting components of sleep structure, certain sleeping medications have been shown to improve learning and memory in healthy young adults. However, the effects on memory have not yet been studied in older adults. You are invited to participate in an exciting study that investigates the potential effects of a commonly prescribed medications on memory in ageing.
What's involved?
With your consent, we will discuss the study with you and answer any questions you may have. If you agree to participate in the study, we will assess your suitability to take part by asking you some questions over the phone. If you are eligible to proceed, we will invite you to attend a screening visit where you will have some cognitive tests to confirm your eligibility and trial the high-density EEG sensor net cap.
This randomized double-blinded placebo-controlled study involves an optional 15-minute structural brain MRI scan at iMed Radiology, Brain and Mind Centre, Camperdown, and two overnight visits to the sleep laboratory at the Woolcock Institute in Glebe. The overnight visits will involve memory testing before and after a sleep study and the visits will be separated by 1 week. You will be randomized to receive either the drug (sleeping medication) or placebo which you will take just prior to bedtime.
Eligibility Requirements
Aged 50-75 years.
Ability to perform neurobehavioural tasks
Ability to give informed consent
Fluent in English
Willingness to comply with all study procedures and available for the duration of the study
Chief Investigators
Non-medical: Dr Angela D'Rozario
Medical: Prof Ron Grunstein
Ethics Approval
This study has been approved by the Southern Local Health District (SLHD) Research Ethics Committee (X19-0138 & 2019/ETH00569).
Check your eligibility and register your interest via:
https://wappsystem.github.io/z-drug-screening/?/home
Find out more
Contact name: Mr Richard Lim
Call: 9114 0443 (from 9am – 5pm)
Email: richard.lim@sydney.edu.au