2022 Events, Media and Talks
DAY 1
EMCR Keynote Presentation | A/Prof Stephanie Rainey Smith – Understanding sleep as a modifiable risk factor for Alzheimer's disease
CogSleep Academy Student Presentations
Talks by
Arina Ridha – Regional slow oscillation and sleep spindle coupling during NREM sleep in older adults with and without mild cognitive impairment

Zoe Menzcel Schrire – Feasibility of 3-month melatonin supplementation for brain oxidative stress and sleep in mild cognitive impairment: A randomised controlled trial

Jesse Parker – Longitudinal associations of obstructive sleep apnea and sleep macroarchitecture with future cognitive function in middle-aged and older men from a community-based cohort study

Emma Stumbles – Age and sleep apnoea related changes in sleep quantitative EEG brain activity and longitudinal relationship to cognitive function

Louise Pivac – Suboptimal self-reported sleep efficiency and duration predict faster accumulation of brain Aβ-amyloid in cognitively normal

older adults

Mahiar Mahjoub – Chicken or the egg? The relationship between sleep disturbance and Parkinson's disease progression – A Mendelian Randomisation Study

Hamish Mundell – The combined influence of sleep, pulsewave velocity and APOE4 on dementia: A comprehensive analysis of association and

mechanism

Teha Pun – Effects of the COVID-19 lockdowns on sleep and light exposure patterns

Andrea Ricciardello – Objective sleep EEG biomarkers in adults and older adults with and without depression: A systematic review and meta-analysis

 
Dr Ben Sinclair – Automatic segmentation of PVS on MRI
A/Prof Kai-Hsiang Chuang – Understanding mechanisms of glymphatic dysfunction in dementia
Prof Glenda Halliday – RBD and adaptive structural brain changes
Dr Elie Gottlieb – Sleep-wake dysfunction in human ischaemic stroke
Prof Romola Bucks – Protective or moderating factors for cognitive decline in OSA
Anastasia Suraev – Acute effects of combined cannabidiol (CBD) and delta-9- tetrahydrocannabinol (THC) in insomnia disorder: a randomised, placebo-controlled trial using high-density EEG
Prof Simon Lewis – Targeting prodromal Parkinson's Disease and Dementia with Lewy Bodies
Prof Shantha Rajaratnam – Circadian medicine: Implications for health
Dr Melissa Ree – CBT-I in older adults
Laura Stankeviciute – The role of sleep in preclinical stages of Alzheimer's disease: Introducing the AlfaSleep project 
Dr Elizabeth Coulthard – Better sleep for brain health
DAY 2
Dr Jeff Iliff – The role of glymphatic dysfunction in Alzheimer's disease: Sleep, waste and neurodegeneration at the crossroads of the CNS
CogSleep Academy Postdocs Session
Talks by
Dr Dexiao (Shawn) Kong -The depressed heart: Different heart rate variability profile during sleep in older adults with remitted early-onset versus late onset Depression

Dr Jade Murray – A Mendelian randomization study to identify the causal contribution of circadian disruption to dementia

Dr Elie Matar – Waking up to the mechanisms of cognitive fluctuations in Lewy body dementia

Dr Julia Chapman – Establishing the assessment of dementia biomarkers in a sleep apnea clinic

Dr Prerna Varma – A personalised digital sleep intervention for improving cognitive performance in older shift workers (recorded presentation)

Dr Jessy Manousakis
Dr Andrew Varga – Acute and longitudinal impact of OSA on Alzheimer's disease biomarkers and cognitive decline
Interactions of Sleep and Neurodegeneration
Talks by
Dr Marina Cavuoto – Sleep and dementia risk: The role of Alzheimer's disease genes
Dr Stephanie Ward – The SNORE-ASA study
Prof Sharon Naismith – The link between obstructive sleep apnea and neurocognitive impairment: A summary of an official American Thoracic Society Workshop Report
March 2022, Prof Ron Grunstein spoke at the Idiopathic Hypersomnia and Narcolepsy Education Day in Brisbane and was made a Fellow of the Thoracic Society of Australia and New Zealand in March 2022. This award recognises those members with sustained and exceptional expertise and experience in respiratory/sleep medicine and/or research and/or respiratory health service provision and acknowledges Professor Grunstein's major contribution and commitment to advancing respiratory/sleep health in Australia and New Zealand.
March 2022, Prof Sharon Naismith presented to the Faculty of Old Age Psychiatry in Victoria on 'sleep in mood and neurodegenerative disease'. She also presented at the Australasian Sleep Association Network of Early Career Sleep Researchers in Training (NEST) webinar titled 'climbing the sleep ladder: how to become a future leader in research'.
29 April 2022, the 2022 annual Sydney Dementia Network Symposium was chaired by our own Prof Sharon Naismith. Prof Glenda Halliday featured as the opening keynote speaker and presented on 'the common but overlooked vascular and TDP-43 pathologies in dementia – why should we care'. Dr Loren Mowszowski delivered the EMCR keynote presentation and spoke on "cognitive interventions for healthy brain ageing: pulling and pushing to close the research-to-practice gap".
April 2022, the Brain and Mind Centre hosted a visit from F1 legend Sir Jackie Stewart. On his way to the Melbourne Grand Prix, he dropped in with Dementia Australia to meet Dr Andrew McKinnon, who holds the Sir Jackie Stewart Race Against Dementia Fellowship, working with the Healthy Brain Ageing Clinic to examine how sleep contributes to the build-up of amyloid and tau in the brain. Andrew is working in collaboration with our CogSleep collaborators A/Prof Stephanie Rainey Smith in WA, as well as with researchers in Newcastle and Brisbane. He has recently commenced a secondment to the CSIRO in Brisbane to develop his expertise in data science and machine learning approaches for application to actigraphy and neuroimaging data.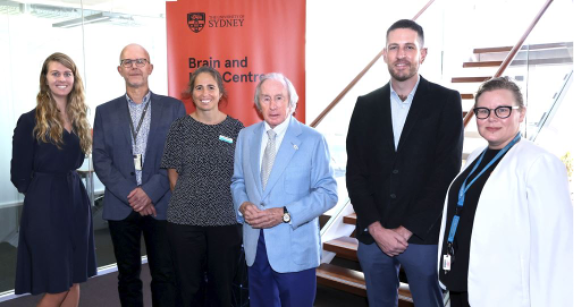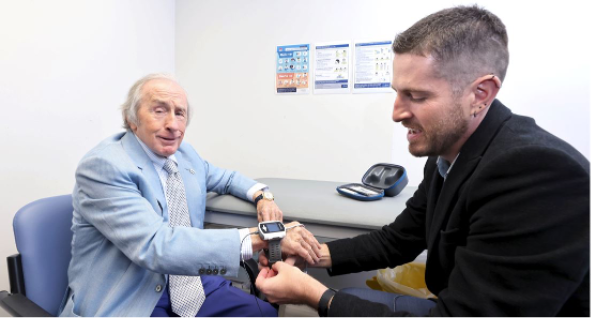 Prof Sharon Naismith chaired the Prevention Stream of the Australian Dementia Research Forum. Dr Angela D'Rozario spoke on sleep and dementia bidirectionality and Prof Ralph Martins spoke about the plans for the AU-ARROW trial, of which there will be a sleep sub-study.
Dr Camilla Hoyos travelled to San Francisco to present at the American Thoracic Society on the outcomes of their trial examining the effects of CPAP on memory and other cognitive functions for people with MCI. Many CogSleep members were involved in this trial, which has been integral in informing the ReShaped multisite NHMRC trial.
25 March 2022, Prof Sharon Naismith spoke to 2GB about music and neuroplasticity.
6 April 2022, Prof Sharon Naismith spoke on 2SER Community Radio about the benefits of music for preventing dementia.
12 April 2022, Dr Angela D'Rozario featured on The House of Wellness in a segment titled 'Waking up tired? Why sleep apnea might be to blame'. To find out more click here.
24 February 2022, Dr Angela D'Rozario spoke to The Limbic to discuss how 'CPAP reverses OSA impacts on the brain'. Find out more here.
15 February 2022, Dr Angela D'Rozario featured on ABC News Breakfast, ABC Mornings, ABC News at Noon, ABC Online, MSN, District Bulletin ABC Radio and 2GB to discuss her "Australian study uncovering what happens in the brains of people with sleep apnoea". To find out more click here.

2021 Events, Media and Talks
We had so many fantastic events throughout 2021.
20 July 2021, Prof Ron Grunstein spoke at the Australia and New Zealand Obesity Society Conference on "Losing sleep over obesity – Can we fix the problem?"
31 July 2021, Dr Lachlan Stranks (Clinical CogSleep Research Fellow) spoke at the ASA Hypersomnolence Masterclass alongside colleagues Dr Sheila Sivam and A/Prof Brendon Yee.
26 August 2021, Prof Sharon Naismith and Prof Simon Lewis presented at the Australian Dementia Network (ADNeT) Sleep Webinar on sleep in Alzheimer's Disease and Dementia with Lewy Bodies.
Prof Sharon Naismith appeared in the Sydney Morning Herald (26th January 2021), in an article that addressed how an afternoon nap could boost your mental agility. See the article here. She also spoke to Channel 7 news about the WhiteHall study (21st April 2021) which showed that short sleep duration increases the risk for dementia. She appeared in the Sydney Morning Herald (16th May 2021), in an article that addressed how poor sleep increases the risk of cognitive decline and dementia. See the article here. Sharon also made numerous appearances on various radio shows this year to discuss sleep and dementia including Hope Radio Sydney (17th May 2021), 2GB radio with John Stanley (27th January 2021) and ABC Drive with Richard Glover (27th January 2021).
A/Prof Chris Gordon appeared on ABC radio (18th March 2021) at the start of Sleep Awareness Week to discuss insomnia and the importance of getting a good night's sleep. Listen to the full interview here. He also appeared on Channel 9 News, Sunday Morning and regional stations (18-19 September 2021) to discuss how an innovative smartphone app, SleepFix, designed to treat insomnia is even more effective when connected to a wearable sleep-tracking device like a FitBit. He was was interviewed on ABC Radio (14-19 September 2021) to discuss all things sleep – and particularly the impact that lockdown is having on people's sleep.
Prof Simon Lewis appeared on Insight on SBS (13th April 2021) to discuss the 'strange things people do while they're asleep'. See the episode here.
Dr Camilla Hoyos featured on Channel 9 (6th June 2021) to discuss the use of melatonin for people at risk of dementia.
Prof Ron Grunstein featured on Channel 7 (2nd June 2021) to discuss the availability of over-the-counter melatonin for Australians aged over 55. See the article here. He also appeared on Channel 9 News to discuss the possibility of melatonin becoming available over the counter. See the interview here. He was interviewed on The Medical Republic to discuss "Chronic insomnia – what to do when everything fails". See the article here.
We recently held our third annual CogSleep CRE conference, held across two half days on Monday 13th and Tuesday 14th September 2021, via Zoom Webinar.
We had an exciting program which including international keynotes from Assistant Prof Yue Leng from University of California, San Francisco and Associate Prof Brendan Lucey from Washington University. We will also be hearing about the range of incredible work being conducted across the CogSleep network from researchers at all career stages as well as from other national experts in the field of sleep, ageing and neurodegeneration. This includes Prof Anna King (UTAS), Prof Elizabeth Coulson (UQ), Prof Meng Law (Monash), A/Prof Laura Jacobson (Florey), A/Prof Mathew Pase (Monash), Dr Melinda Jackson (Monash), Dr Melissa Farnham (HRI) and more. The program will feature dedicated sessions on neurobiology and biomarkers, treatment targets, and the links between sleep and cardiovascular disease.
Building on last year's success, our symposium also featured two sessions from ECRs and students of the thriving CogSleep Academy. Prizes were awarded to our CogSleep Academy presenters.
A full program from the conference can be downloaded here.
A video recording of the conference will be available soon!